6th November 2016
Some time has passed, because I don't want to show you the same hats every time. Here we have a smoke-grey Fedora in 58cm with Crystal Skull Bash. Besides the colours sable, light sable, smoke-grey and steel-grey, I soon will be offering black as a standard colour in 100% beaver felt quality.

---
4th October 2016
Clipper Fedora for UK, smoke grey, size 58cm, 44mm Black ribbon, photographed in different lights.
---
20th September 2016
Here we have three Fedoras that were shipped last week(to Japan, UK and Germany).
The first two hats are Raider Fedoras. You can see that with Raiders Turn the ribbon bow comes more to the front (1st pic, Raider Fedora, Idol Grab, with Turn, size 56,5cm/ 2nd  pic Raider Fedora without Turn, Ark Recovering scene).
Third one is a Streets of Cairo Fedora size 57, with Raiders Turn of course.
---
6th September 2016
this Raider Fedora without Turn for a German customer is size 61cm and has a custom spec brim width of 8cm front /back and 7.5cm on the sides:
---
25th August 2016
Today two Raider Fedoras have been finished. One heading for Poland with Raiders Turn Size 59:
and one without Turn Size 59,5 for a German Customer:
---
24th August 2016
Finally new hats. Much blocking and sewing the last weeks. Yesterday I shipped out two Streets of Cairo fedoras, size 57 and 59, one to France, the other stays in Germany. The look pretty much the same, so here just one photo for now 😉
BTW: If you wonder: "Where the hell is the Raiders Turn?" It will be visible when wearing the hat. The hat stand can't create the necessary tension.
---
13th July 2016
Family vacation in France… I'll be back on 1st August 😉
---
12th July 2016
On it's way to Japan, a Kingdom Fedora size 57:
Shipped to Poland last week were these two fedoras. A Temple Fedora, Bridge Scene size 57:
and a Raider Fedora without Turn, generic Style, size 57:
---
4th July 2016
This Crusader Fedora (LC, generic style) will ship out to William today: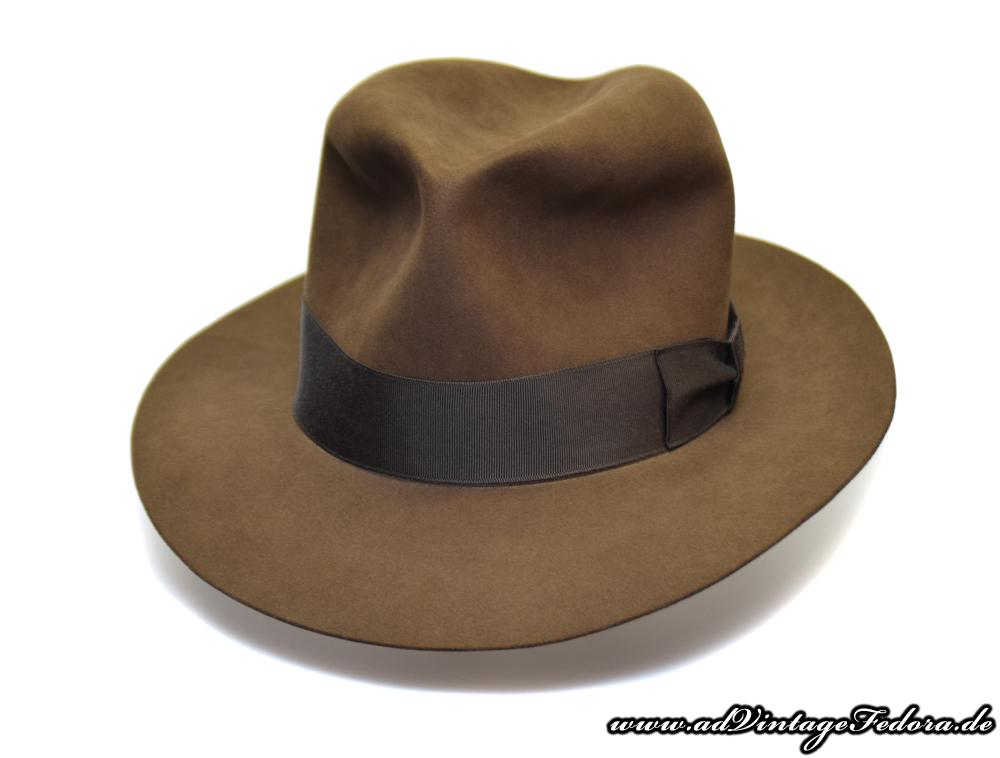 ---
28th June 2016
Last weeks have been busy, so I could not take photos of every new fedora, but here are some chosen ones. First a Temple Fedora, Bridge Scene, size 57.5cm:
Here's a Raider Fedora, Idol Grab Scene, without Raiders Turn:
and a Raider Fedora, Idol Grab, with Raiders Turn:
and at last a Streets of Cairo Fedora, size 54.5cm:
---
9th May 2016
Today there are two fedoras, this Raiders Idol grab with Turn in size 58,5cm is leaving today for Australia
This Last Crusade Fedora (generic style) in size 57,7cm is for a German customer
---
24th April 2016
Today's hat is a Raider Fedora, generic style, size 57cm, will get a new home in Belgium.