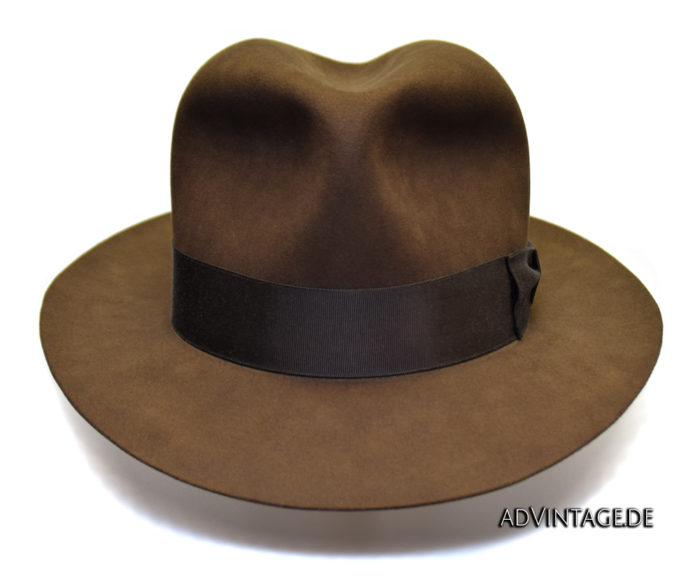 Our adVintage Fedoras are made to reach the highest screen accuracy, this is why our Temple Fedora has the typical soft shape and the wide front as the movie hat.
The "ToD" Fedora you see here shows generic and typical characteristics of the hat used in the movie. If you want your hat to look like in a specific movie scene, just let me know in the field for comments in the order process
Why adVintage?
100% best quality portuguese beaver felt
handblocked and wet-ironed for max endurance
in-felt waterproofing / not sprayed on
back-sewn sweatbands for invisible seams
all handmade for max possible customizations
What customizations are possible?
Different felt colours (all 100% beaver felt), brim widths, crown heights, ribbons in different widths and colours, hat lining colours, brim finishes and so on. Please contact me for an offer. Felt and ribbon samples by letter upon request.
Everything we do to create your Fedora hat, from blocking over sewing and sewing in each trimming to shaping it, is completely done by hand. For this reason the this Fedora is made to order exclusivly for you.
This fedora will be handmade for you by me on order. The delivery time consists of waiting time (other orders ahead), production (about 10 days) and shipping (Germany about 3 days, Europe about 4-7 days, other countries about 20-30 Days).
This hat can be made in the sizes 53cm to 62cm.
Please read our FAQ regarding hat care.
Please see details, prices and order opportunity at my Shop.