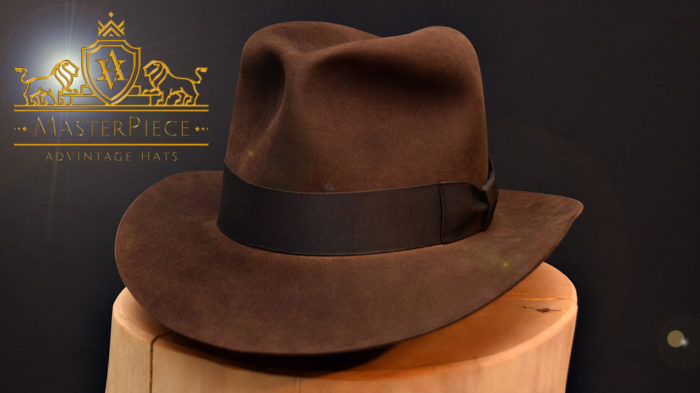 The naming of this fedora hat is my promise as a hatmaker: when you are looking for one of the best handcrafted fur felt fedora hats, you don't have to look no further.
Maybe you already know from my handcrafted hats, that I stabilize the felt structute with the help of water, heat and pressure to secure that the hat keeps its shape for a long time. The MasterPiece Fedora is blocked in a special method, that lets the felt hairs re-arrange and merge, which significantly increases the persistence of the hat. This method is also known as "Pre-Aging". What else can you expect from a adVintage Masterpiece Fedora? Finest, silky surface, dual "waterproofing", "bullet proof" lock stitching of the sweatband, the ribbon and bow made from one piece and very fine sewing. All in all roughly twice the labour time is neccessary for a MasterPiece hat, which is the main driver for the price difference.
Every single MasterPiece fedora hat is a one of a kind, crafted in many hours of handwork, from only the best materials. It comes with an certificate of authenticity and a classic hatbox.
I use extra large felt rawbodies for the special blocking method, that is why the MasterPiece Fedora is only available in a smaller range of sizes and colours:
True-Sable: 530mm – 610mm head circumference
Sable, Raiders-Sable, Light-Sable, Steel, Stone, Mouse, Slate, Moss, Dark-Royal: 530mm – 590mm head circumference
I'll send you a questionnaire by email after receipt of your order, so you can choose your favourite sweatband and hat lining colour, and the stiffness of the felt. A free laser engraving of the sweatband, such as your name, initials or a logo is also possible. Furthermore, if you have special requests, you can also choose from different felt colours (all 100% beaver felt), brim widths, crown heights, ribbons in different widths and colours, brim finishes and so on. I am happy to send you felt and ribbon samples by letter upon request.
Your MasterPiece fedora will be made to measure, to a millimetre accuracy. I will help you to determine your correct hatsize, after you have send me your order. Or simply send me an email in advance.
Please notice that I can make any fedora shape you like, from the Indy hats to all classic shapes, but the "Streets of Cairo" Fedora is not available as MasterPiece fedora.
This fedora will be completely handmade for you by me on order. The delivery time consists of waiting time (other orders ahead), production (about 14-20 days) and shipping (Germany about 3 days, Europe about 4-7 days, other countries about 20-30 Days).
I you have any questions about the adVintage MasterPiece Fedora, please let me know.
Here you can order the MasterPiece fedora: https://www.replix.de/en/advintage-fedoras/1620/advintage-masterpiece-fedora-hat?c=174
And here you can win it: https://www.facebook.com/thomasadvintage/